Bill Griffeth's Strangers No More to be released June 2022
To be notified as soon as the title is available for sale, please fill out the form on this page.
In his 2016 best-seller, The Stranger in My Genes: A Memoir, Bill Griffeth told of learning that the father who raised him was not, in fact, his biological father. In this sequel, Bill continues his journey to learn about his newly discovered biological family and shares some of the dramatic stories strangers and friends told him about their own shocking DNA discoveries. In the process, Bill stumbles on some closely guarded family secrets. Warning: It's another page-turner that may keep you up all night!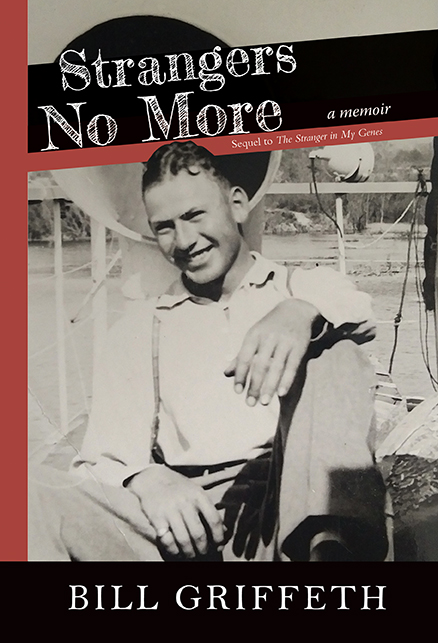 Praise for Strangers No More
"In Strangers No More, Bill Griffeth offers a moving portrait of coming to terms with the past after the discovery of a profound family secret. The journalist and genealogist blends dogged research with empathy to unravel his family's complexities, reconstruct his own origin story, and connect with newfound kin. With home DNA testing bringing revelations to so many Americans, Griffeth's fascinating memoir offers a clear-sighted and compassionate roadmap for us all."
—Libby Copeland, author of The Lost Family: How DNA Testing Is Upending Who We Are
"With sensitivity and grace, Bill Griffeth tells the story of the family—his own—he only recently discovered. Like untold numbers of Americans, he learned through a casual DNA test that his biological father was not the man who raised him. In this tender, witty, and deft volume, Griffeth explores his 'biological' and 'biographical' families and their histories. Strangers No More is a book not only for those who learn unanticipated facts from their DNA searches. It is a book for us all."
—Gabrielle Glaser, author of American Baby: A Mother, a Child, and the Shadow History of Adoption

"This book offers hope to the millions of people who experience a Not Parent Expected discovery. Validating and healing, Bill's insightful books are trailblazers teaching others how to embrace DNA surprises in their families with compassion and kindness."
—Catherine St Clair, Founder of NPE Friends Fellowship and the world's largest NPE Facebook community, DNA NPE Friends. To learn more, visit www.NPEFellowship.org