Open Call for Ancestor Adversity Stories
Have you had an ancestor who survived a harrowing historical event, such as: a major war; a pandemic such as the 1918 influenza outbreak or polio outbreak; or a major natural disaster such as a hurricane or flood? Please tell us their story and -- if you can -- tell us how that makes you feel about both your ancestor and your family history. Please also submit a high quality image if you have one, as we would like to showcase your stories online. Many thanks!
(Image Below: Hospital beds during the 1918 influenza outbreak, courtesy of the Library of Congress)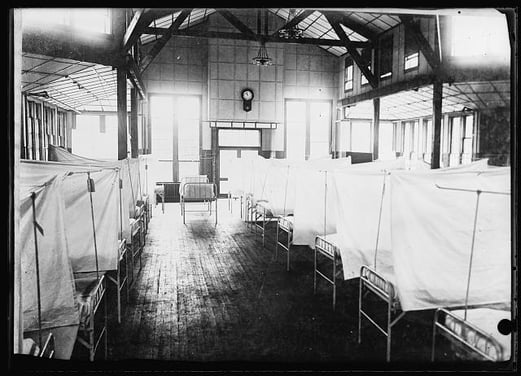 Please note that by entering your story in this form, you are granting permission to NEHGS/American Ancestors to use your story and any associated image for the promotion of this site.
Specifically, submitters of stories on this website are (i) granting permission for American Ancestors to use images, likenesses, voices and/or written statements, without compensation, credit or other consideration, for NEHGS/American Ancestors' promotional, publicity and other purposes, throughout the world and in perpetuity, in support of this project and website; and (ii) have agreed to release, hold harmless and indemnify NEHGS/American Ancestors from any and all liabilities and claims involving the use of said images, likenesses, voices or statements.
NEHGS/American Ancestors strives to ensure that photography and videography are used in safe and positive ways. We will not knowingly and intentionally post any photo, video or other recording that would be embarrassing, objectionable or hurtful to any clearly, personally identifiable individual in the recording.
If you see a photo on this website or social media page (e.g., Facebook) that includes you or your child and would like it removed, please contact the web team at web@nehgs.org. Please note we cannot remove your image from video or live stream messages. Please understand that NEHGS/American Ancestors has no control over the recording, use and posting of images or other media by non-American Ancestors staff (e.g., by community members, news outlets) and no ability to remove such media from publications, including internet or social media sites, that are not run by NEHGS/American Ancestors .